Streets for People / PeopleForBikes Ranks Key West 39th Best City for Bicycling
On June 3 PeopleForBikes released its 2021 City Ratings expanding internationally for the first time for this its fourth annual iteration. The City of Key West received a score of 58 on a 100-point scale which earned it 39th place of 767 cities measured and 10th place in the Small U.S. Cities category. An improvement over last year's #115 ranking. Pretty darn good! We're small, flat and have good weather, so lots of us ride bikes. That's the reason for our relatively high score. We asked some local leaders about what the rating means and dug deeper into the scoring for some analysis. Here's what we found and what it means for bicycling's future in Key West.
The PeopleForBikes Annual City Ratings = Tough Standards
For the first time PeopleForBikes included 30 European, 45 Canadian, and 25 Australian cities. It also expanded its list of U.S. places from 567 to 660. They also simplified the scorecard and went to a 100-point scale rather than a 5-point scale used in previous years. Last year in 2020, the City received a score of 1.9, ranking it #115 (Key West #115 in Best Cities for Bikes List, June 10, 2020). In 2019 it received a 1.9 and garnered a 2.1 in the annual list's first year in 2018.
The City Ratings are a data-driven approach to evaluate and compare bicycling in cities that can help leaders pinpoint improvements to make biking better for everyone. This year's ratings draw from two key factors: the quality of the bicycle network in a region (Network Score) and community perceptions of bicycling (Community Score). The first is sourced from the PeopleForBikes Bicycle Network Analysis, the second from online surveys submitted by local residents and advocates about bicycling in their city. The simplified ratings allow PeopleForBikes to compare U.S. cities with the best places around the world. Being able to benchmark against the best allows places to set the bar high.
PeopleForBikes says: "While a score of 52 might seem low, cities with scores of 50 or more demonstrate higher ridership, improved safety and greater access than their peers. That being said, most U.S. cities will fall short of world-class examples of integrated bicycling in places like Copenhagen and Amsterdam. By offering a comparison to some of the world's great bike cities, we hope to inspire and motivate others to accelerate their bike infrastructure and programs that get people on bikes."
Having tough standards set by some of the best cities in the world like Utrecht (83), Amsterdam (81), Copenhagen (80), and Paris (66), helps explain how a seemingly low score of 58 is still able to get Key West to the top of the lists. 22 cities in the U.S., including Key West (39th), came in the top 50 internationally, but again, the international sample was very small and used mostly for demonstration purposes.
Key West's Score – Bicycle Network Analysis
This is the Network Score for Key West. "The Bicycle Network Analysis, or BNA, is a data analysis tool that measures the quality and connectivity of a city's bicycle lanes — in other words, its bike network. A bicycle network is defined as the system of paths, trails and streets that someone riding a bike can use to access everyday destinations, like:
Neighborhoods — access to parts of the city where residents live.
Opportunity — access to jobs and schools.
Essential Services — access to places that serve basic needs, like hospitals and grocery stores.
Recreation — access to recreational amenities like parks and trails.
Retail — access to major shopping centers.
Transit— access to major transit stations."
Key West, at 4 miles long, 1 mile wide and a total of 4.2 squares miles, is small. So, it shouldn't be surprising that access from where people live to where they work, go to school, shop and play is all relatively close. In most cities, this simply isn't the case, especially as most towns aren't surrounded by water but have sprawling suburbs. Our numbers are generally above 50. Which is good. The exception of course is transit. And it isn't that you can't get to transit by bike, rather the low score is a reflection of the awful transit service or transit score that we have here on the island. So that part of the score won't improve till our transit does. (Sustainability Board Wants to Make Free, Frequent and Simple Key West Transit a Reality; February 6, 2021)
The Network Analysis Map below (methodology explained here) shows high-stress (red) and low-stress (blue) areas for bicycling in Key West. This map looks like there are a lot of high stress areas, especially on some of the major streets. So, we're surprised by the high BNA score and think some of it may have to do with the way the analysis aggregates the data by Census Block and thus mitigates some of the red. Also, we suppose if you avoid the red streets, you can get around most everywhere, and that's true, but you really have to work at it to avoid these red streets.
We hope to explore this map in the future to document where change is needed. For example, the First and Bertha Streets Corridor stands out here as high stress, is labeled in the Bike/Ped Plan for protected bike lanes and yet as the street is being rebuilt, will get no new bicycle infrastructure (First and Bertha Streets Corridor Road Improvements Are Another Missed Opportunity to Make Bicycling Safe and Easier; June 4, 2021).
Key West's Score – Community Score and Survey
Each year, PeopleForBikes conducts an online survey to capture perceptions of biking from people that live, work and play in the cities being rated. We've often promoted this survey on our Friends of Car-Free Key West & Duval Street/Historic Downtown Facebook page. The Community Score is based on a 100-point scale derived from four equally weighted scoring categories: Ridership, Safety, Network and Awareness. Answers to questions in these four categories provide valuable insight into how often people ride bikes for transportation and recreational purposes, how safe they feel riding a bike in their community, whether the local bike network helps them reach useful destinations and if they are aware of nearby bicycling resources. Here's Key West's Community Score:
As we said at the top of the story, lots of people in Key West ride bikes to get around. They've told this to PeopleForBikes in the survey and this is reflected in the score of 72 for ridership. The survey's also saying, as is reflected in the 65 Network score, that we're able to get where we need to go on a bicycle. However, Key West's low score of 43 on Safety means people in the survey are telling PeopleForBikes we don't exactly feel safe getting around. The awful 34 score on "awareness of biking resources and our city's efforts to improve biking" is the weakest score of all.
The Awareness and Safety scores jives with our and other's analysis that we score well here in Key West because we're small, flat and warm. Not particularly because of anything the City of Key West is doing.
What Leaders in Key West Are Saying About the City Ratings
We asked some Key West leaders and bicycle advocates what they thought about the Key West's score and ranking. We also asked bike rental owners an additional question, if they are seeing more people biking these days and what that means for their business. Here's what they had to say:
Key West City Commissioner Sam Kaufman:
"Key West is so special and unique. We live where you can traverse our island by bike and get to anything with a tremendous amount to do and see – all available by bicycle. Add the welcoming nature of our residents, the local cultures, the great restaurants and entertainment- all accessible by bike too. Most of our roads have a low-speed limit which is bike friendly. Also, many KW residents rely upon bikes as their sole form of transportation creating spaces where most drivers, pedestrians and bicyclists alike are accustomed to sharing the roads, sidewalks and paths. Although Key West certainly could use improvements to bicycle infrastructure, locals and visitors alike can travel most areas safely and relatively quickly. No other place offers the awesome beauty of the water and nature with all of the above. We love Key West and so do visitors on bicycles!!"
Tom "The Bike Man" Theisen, bicycle advocate and owner of BikeMan Bike Rentals:
"There are tons of people on the island and that equates to all the bike rental shops being very busy. Also, all of the hotels in Key West are online, we are maxed out. The rankings are not a good reflection of the effort and money that the city puts into its bike infrastructure, which is almost nothing. We are warm, small, flat, and interesting. That's why we're a popular place to bike."
Tim Staub, City of Key West Transportation Coordinator:
"It's a reasonable ranking. It can be improved, but it will take time because of how the (PeopleForBikes) program is weighted towards the whole built environment, not just the network. A big thing I'm noticing from the rankings is the heavy weight on cities with gridded narrow streets, lanes, small lot sizes, and short setbacks."
Evan Haskell, bicycle advocate and owner of WeCycle Key West bike shops:
"I'd agree with Tom (Theisen) that our place in the rankings has more to do with the mass of people cycling than anything the city has done to improve conditions. There are some great things in the pipe, but we will have to be pro-active to make sure the new Bike/ ped coordinator is on the same page (bummer that Tim is leaving). *
Not only are there tons of people here and the town is maxed out, COVID-19 had the effect of getting more people active outdoors. Bike rentals are up, with 2021 looking to well exceed 2019 figures. I'd be selling bikes like crazy if I could get them. It's a global bike boom for demand and that is compounded by the global shipping challenges affecting all imported goods. If i order bikes right now, I'm looking at Summer 2022 arrival and I'm still waiting on bikes I ordered back in October.
Like everyone else on the island, the staffing challenges are real. The employee market has never been so tight, which is a good thing for our residents as wages are rising."
Key West City Commissioner Gregory Davila:
"I guess I'm happy that Key West was ranked high however, I don't want anyone to think that we've achieved something so it's ok to stop moving forward."
Roger McVeigh, local and vocal bicycle advocate:
"Great news on the rating! In light of our year-round pleasant weather and flat and small geography (7 square miles), there is no reason we should not be number 1 in rankings."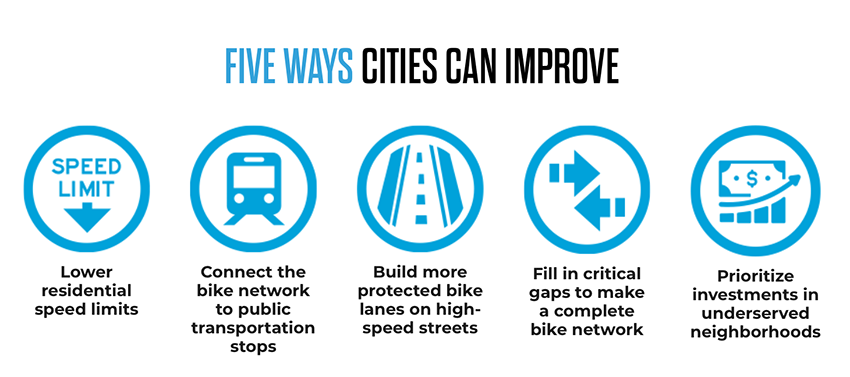 What Does All This Mean for Key West's Bicycling Future?
Drawing from the data and the conclusions of those we interviewed, we've gotten all the low hanging fruit already. Because we're small, flat, have a compact street grid and have great weather 12 months a year, we don't have to do much to find lots of people on bikes.
The PeopleForBikes survey AND the people we interviewed agreed that there's nothing the City is doing that is enticing people onto bikes, but rather our relatively good score is because of the natural factors already in place.
The good news is that's the bridge to a better future. Roger is right. There's no reason that Key West couldn't be #1, at least in the Small Cities in the U.S. category. We could become known as the world's bicycling paradise. We could become known for the same bicycling culture as rock star cities Copenhagen and Amsterdam. We start with a better natural base than most any city in the world.
But the low safety numbers in the PeopleForBikes survey show people don't exactly think it is safe to bicycle in Key West and all the red "high stress" streets on the Bicycle Network Analysis show where people think it is unsafe. Research shows that to get the people who aren't comfortable on the streets to bike, you need to have good bicycle infrastructure. We have a roadmap in the Bicycle Network Analysis that shows us where to target the infrastructure improvements. All of this is in our Bike/Ped Plan. We just have to implement it and not ignore it as we've done on First and Bertha Streets. That's the hope for the future and the only way we'll improve our score.
*As we go to press, we've learned that the City's Transportation Coordinator, Tim Staub, submitted his resignation and his last day will be July 30. He's leaving his position to go to Graduate School. We'll definitely be bringing you a story soon on how his good work will be sorely missed. If you see Tim, please thank him and wish him well.
# # #
You can find all the KONK Life Streets for People column articles here and recent stories below:
Chris Hamilton is founder of the local advocacy group Friends of Car-Free Key West & Duval Street/Historic Downtown. He's a native of the District of Columbia, where for a couple decades+ he led nationally renowned efforts promoting transit, bike, walk and smart growth for Arlington County, VA's DOT. Chris has lived in Key West since 2015. He lives downtown and works and volunteers for a couple non-profits.
[livemarket market_name="KONK Life LiveMarket" limit=3 category="" show_signup=0 show_more=0]