Streets for People / Duval Street Revitalization Back on Track
It's like déjà vu all over again. Nearly two years after the release of a Duval Street Revitalization Plan Request for Qualification (RFQ), comes word from the City's Planning Director Katie Halloran, that a Duval Street Economic Corridor Resiliency and Revitalization Plan RFQ release is imminent. With some luck and a compact selection process we're told a vendor could be on board for a project start this winter. This is great news for our beloved downtown's future. The icing on the cake is that this iteration comes fully paid for with a $500,000 State grant. Here's how we got here…
Mayor Johntson's Push to Help Duval Street
Mayor Johnston ran on a platform of revitalizing Duval Street in 2018. She came through by initiating the Mall on Duval pilot project in 2019 and the discussions about that begat the release of a Duval Street Revitalization Plan RFQ (Request for Qualifications) on November 21, 2019 (RFQ). Of the RFQ she said at the time:
"We all love our main street and want to see it prosper and bring our community together. Mall on Duval brought locals downtown who haven't been there in years, prompting a conversation about what improvements need to be made, including widening sidewalks – they range from 8 to 18 feet – and adding planters and benches. There are street designs that have the sidewalk on the same level, and you divide it off by concrete planters. The street can be cobblestone and the sidewalks can be different materials. We also need shade, benches and water fountains."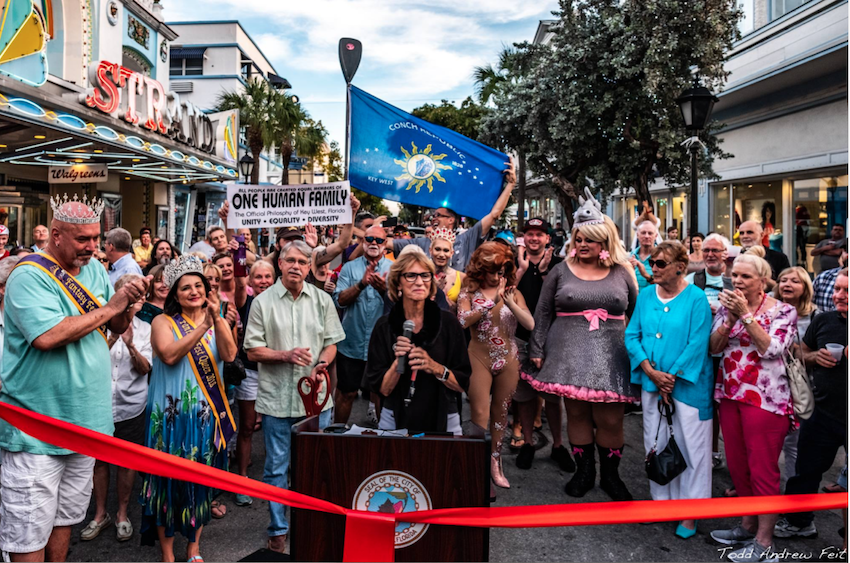 In reaction to the forthcoming release of the new RFQ, the Mayor, this week, said:
"Although this process has taken longer than we had originally expected, the additional scrutiny by our Planning Department will assure us the very best responses and ultimately improve our final community product. This is a large project requested by the majority of our Key West residents, so we need to get it right!"
We applaud the Mayor for her tenacity in keeping the project moving forward.
Residents Say They Want the Project and City Codifies Effort in Strategic Plan
Mayor Johnston's been elected by overwhelming margins twice, while promoting Duval Street revitalization and residents say they want something to happen too. The January Key West Community Survey of 3,700 residents showed "Two thirds  of us are in favor of closing Duval Street for pedestrian traffic on evenings and/or weekends" and the data clearly show that "revitalization of Duval Street" is our #1 top rated capital project.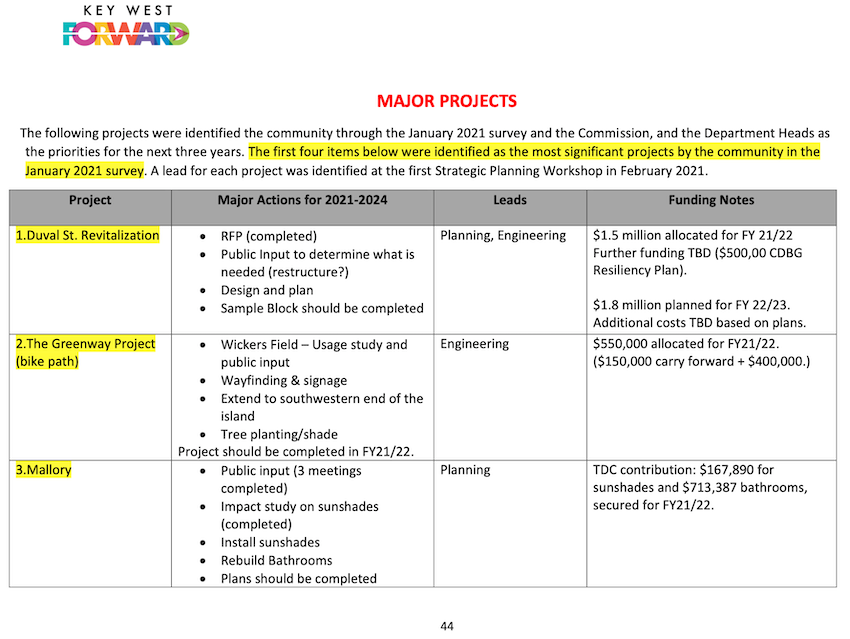 The newly adopted Key West Forward Strategic Plan codifies this as the #1 major project and recommends setting aside $1.5 million in FY 21/22 and $1.8 million in FY 22/23 for engineering and construction. The #2 priority area, after Affordable Housing in the Key West Strategic Plan is Adaption/Sea Level Rise. Duval Street Revitalization will be done with this in mind. The Planning Director saying:
"One major goal of the plan is to revitalize the corridor in a way that promises additional resilience to climate related risks, particularly sea level rise."
The third priority in the Strategic Plan is Roads and Sidewalks. The fourth is Environmental Projection. The fifth is Cleanliness and the sixth is Traffic & Pedestrian Friendliness. No doubt that the Duval Street Economic Corridor Resiliency and Revitalization Plan plays a major role in five of the six priorities the City will be addressing via the Strategic Plan over the next few years. As it should because the corridor's success is our island's success.
So, About That Two-Year Gap in RFQ Releases
The original Duval Street Revitalization Plan RFQ  was released on November 21, 2019 (RFQ). After a long process, a consultant team comprised of two well regarded firms was selected at the August 19, 2020, City Commission meeting with the top two competing vendors appearing on Zoom to make presentations. A contract was signed in November 2020 and a phase one budget and scope was in the works last winter. All was set for public meetings and a project start this past spring. And then the wheels came off.
One of project leads had quit the main firm. At the same time in February, Keys Weekly printed an "artist's rendering" included in the consultant's original submission depicting Duval Street as well, not very Duval Street like. There was such a hue and cry over the rendering, as discussed here in The Wee Donkey, Whataboutism, Bathwater and Duval Street's Future; February 19, 2020, that a month later we surmised the combination of the two events led to the cancelation of the contract and an announcement of a new RFQ process. However, we now know that isn't exactly so. Ms. Halloran told us:
"KCI's contract was terminated because without notice they removed their planning staff, and then their lead project manager/planner who had strong historic preservation and public outreach credentials resigned.
Secondary vendors were not simply chosen because we wanted to make sure we adhered to procurement procedures and in particular, wanted to make sure our procurement was acceptable to the Florida Department of Economic Opportunity (DEO) because they are funding the lion's share of the planning portion of the project."
Here's the crucial part. When the original RFQ went out, the City was likely going to end up funding the planning effort itself. KCI's personnel problems may have been a blessing in disguise because the additional time allowed the Planning Department to secure a $500,000 planning grant from the State DEO to pay for the effort. But that meant they were now obligated to rewrite the RFQ to State standards. And get the rewritten RFQ approved by the Office of Economic Opportunity. That's why, nearly 9 months after the old contract fell apart, there's still no RFQ for a new vendor on the street. The City is awaiting DEO's blessing.
The New Scope of Work and Timeline
When we asked the Planning Director to explain what was happening, she very generously took the time to share the following with us:
"The State Department of Economic Opportunity is currently reviewing the second round of the Duval RFQ. We have been awarded a $500,000 planning grant from the DEO (CDBG MIT funds) so we must vet the RFQ through them to ensure the City is reimbursed for this project. I think we can release within two weeks. If we give the RFQ eight weeks on the street (the timeline has not yet been finalized, it may be shorter), our Ranking Committee (not yet selected, but would include staff and community members) would have their rankings completed by December. We may get through City Commission and have our selected partner approved by January 2022.
The planning process for the corridor is our focus now. I don't think the planning process itself should take longer than 12-18 months once a consultant team is on board, otherwise we risk public participation/meeting fatigue. We know this project must be guided by community input and preference. Identifying the funding to actually construct the full length could take years and the construction process will definitely take years. This is not a short-term project.
The scope of work for the Duval RFQ includes mobility planning, civil engineering, historic preservation, landscape architecture, and public facilitation. One major goal of the plan is to revitalize the corridor in a way that promises additional resilience to climate related risks, particularly sea level rise. This may also include working with local businesses to assist with economic resilience. This revised RFQ ensures we are meeting our DEO grant requirements, and is more directly tied to resilience, in addition to revitalization (making the street even nicer to look at and more comfortable for pedestrians)."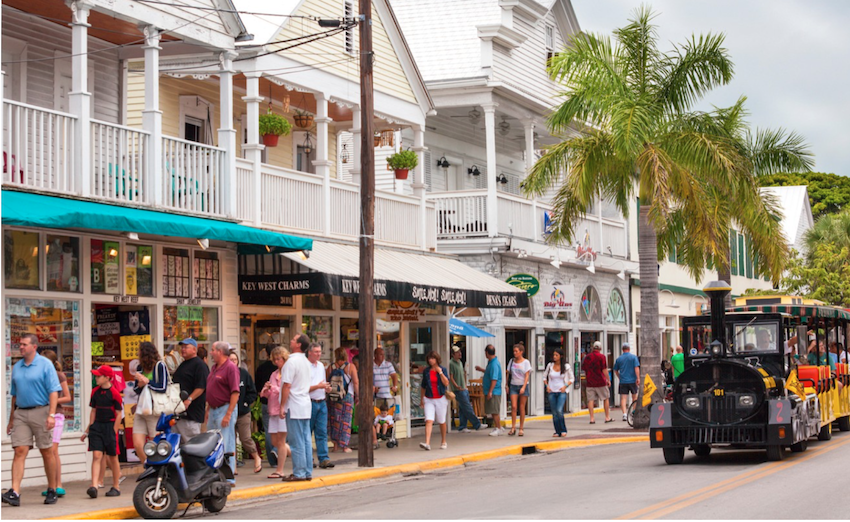 Here's Hoping This Important Project is Back on Track
Given the length in time it took to conduct the last RFQ and considering how much time complicated procurements take to get through the City's bureaucracy, we think the Planning Director's timeline is a bit optimistic. But we're rooting for her to meet this schedule and get something started this winter.
We know Katie Halloran and her small team have a lot of issues on their plate now. With the hot Bahama Village 3.2 Acre Development and the new Strategic Plan topping the list. But we feel like this signature project of Mayor Johnston's is in really good hands. The delay has allowed for funding to come in for the effort. Certainly, more than was budgeted for the original, so we can expect a robust process. We can't help but feel this effort will be for the better with a solid Key West Forward Strategic Plan at its back and because the community outreach won't have to be conducted during the height of last year's shutdown and subsequent recovery effort. And the project's new emphasis on resilience, given our attention to sea level rise, also seems more appropriate.
All in all, perhaps the two additional years it took us to get here, will be worth it. We're rooting for the Mayor, the Planning Director, and our community to make it so.
# # #
Featured picture is taken from page 43 of the Key West Forward Strategic Plan. You can find all the KONK Life Streets for People column articles here and recent stories below:
Chris Hamilton is founder of the local advocacy group Friends of Car-Free Key West & Duval Street/Historic Downtown. He's a native of the District of Columbia, where for a couple decades+ he led nationally renowned efforts promoting transit, bike, walk and smart growth for Arlington County, VA's DOT. Chris has lived in Key West since 2015. He lives downtown and works and volunteers for a couple non-profits. 
[livemarket market_name="KONK Life LiveMarket" limit=3 category="" show_signup=0 show_more=0]