Streets for People / Countdown of 2021's Most Important Bike, Walk and Transit Stories – Is Our Glass Half Full or Half Empty? Part 1: The Case for a Glass Half Empty Year 
For the last two years we've brought our readers a countdown of the year's Top 10 most important bike, walk, transit and streets for people stories of the year. As we gathered this year's list together, it became apparent that while good things happened in 2021, we seemed to have just as many setbacks. It begs the question as we go into 2022, is our glass half empty or half full when it comes to these issues? So, we've broken this year's countdown in half. In Week 1 we'll count down the Top 10 Stories of problems, disappointments and delays and make the case for a glass half empty year. Next week we'll count down our Top 10 Stories where we've made progress, improvement and growth and make the case that it was a glass half full year. Join us on this journey and tell us how you'd rate the year. 
Week 1 – Countdown of 2021's Top 10 Most Important Stories that Make the Case for a Glass Half Empty Year
#10. City Addresses Closing the Gap at Admiral's Cut; December 20, 2019
Nothing Has Been Done in Two Years to Close the Gap at Admiral's Cut:
Yes, we wrote this story two years ago, but it is still an open issue. Back in December 2019, then City manager Greg Veliz reported he'd been in "overall good news" talks with representatives of Margaritaville to close the gap at Admiral's Cut so people didn't have to walk 30-45 minutes out of their way to get to Truman Waterfront Park from Mallory Square. It has been two years since that report, and nothing further has been done. 
#9. PeopleforBike's Ranks Key West 39th Best City for Bicycling, June 11, 2021  
Key West Ranks High, But Not Because of Anything We've Done to Improve Biking:
PeopleforBike's annual ranking of the best biking cities had Key West at #39 overall and #10 for small cities in 2021. That's a good thing, right? Well, you'd think so, except that our survey of bicycle advocates and city leaders as well as a look at the data behind the rankings revealed a different story. It seems our high rank has more to do with the fact that we're flat, small, and warm – so people around here bike a lot. The ranking didn't seem to have anything to do with the City making it safer and easier to get around. So, the ranking seemed to shine a light on our lack of bicycle facilities and action. 
#8. Limiting Large Cruise Ships Gives Us an Opportunity to Make Duval Street & Historic Downtown More Locals Focuses, Again" July 9, 2021
Efforts to Limit Large Cruise Ships Continue to Flounder:
This popular story was written just as the City Commission was exploring the best way to move forward in the aftermath of the Florida Legislature and Governor's decision to nullify the citizens of Key West cruise ship referenda. At the time we seemed hopeful that the commission would quickly enact legislation that did the same thing as the referenda. However, it seems stonewalling by the City Attorney because of his deference for the "private property rights" of the Pier B leaseholders and fears of a lawsuit have kept any real concrete action from taking place. Baffling acquiescence by City Commissioners and staff to the obvious obstruction from the City Attorney exacerbate the problem. 
#7. We Need Key West Transit To Communicate Their Path Forward; August 19, 2020 and The Good, the Bad and the Ugly – A Dozen Marketing Things KW Transit Can Do to Increase Ridership; April 9, 2021
KW Transit Continues to Struggle at Marketing and Communications:
Key West Transit got rid of four routes and replaced them with two in 2020. No one, except the few people who ride the buses, knew this happened. They've held a couple public meetings over the last two years and almost no one attended. A recent City services survey showed so few residents ride the bus that it couldn't be rated. At a September 29 public hearing they said they were eliminating the two bus lines and the evening Duval Loop and replacing them with an On-Demand, Uber-like system on December 20 and no one on the island, other than those that read our stories, seems to know what's going on. KW Transit now says this will occur at the end of January. Maybe. Why doesn't anyone know about these things? Because they don't have any staff dedicated to marketing or communications. Our April 19 story addressed what they need to do to rectify the situation. To date they haven't addressed this.
#6. The Sorry State of Key West Bus Stops – We Just Don't Care; April 2, 2021
Lack of Information at Key West Bus Stops Continues:
This story garnered a lot of discussion from locals. There was widespread agreement that the hundred or so bus stop poles located throughout Key West and Stock Island are of little use to anyone because there is no information on them about which buses serve them, where they are going and when a bus might come by. We contrasted this with the Recycling Department having installed cigarette butt dispensers on nearly every Duval Loop bus stop pole, yet the Transit Department hadn't hung any map and schedule information on the same poles. While the coming move to eliminate the North and South Lines may mean one doesn't necessarily need a map or timetable on the pole anymore, one still might need information about how the new On-Demand service works. We'll see if Key West Transit does this when the new service debuts in late January. If it indeed begins then.
#5. How We Get Wider Sidewalks Downtown Without Ripping Up the Streets – Parklets; February 26, 2021, Eight Things We Can Do to Pedestrianize Duval and Still Allow Cars; March 6, 2021, and Want Sidewalk Cafe's and Other Amenities? We Need to Take Some Space from Cars; May 27, 2021
Nothing is Happening to Make Duval More People Friendly:
These three stories from earlier in the year highlight the fact that nothing seems to be happening on making Duval a more people-friendly Main Street. Surveys consistently reveal a yearning by Key West residents to close off parts of Duval to car traffic and do things that will make our Main Street more people friendly – from widening sidewalks, to planting trees to installing benches. Yet nothing has been done. Mall on Duval is a distant memory and the Covid Recovery Plan that said we should close portions of the street never materialized either. 
#4. : It's Official – Uber-Like On-Demand Transit Coming to Key West in December; October 29, 2021 Can We Save Key West Transit from a Death Spiral?; September 3, 2021 and Mayor Bravely Puts Onus on Commission to Do Heavy Lifting on Better Bike, Walk and Transit. Will They Come Through?; July 2, 2021
Key West Transit Doesn't Get Planned for Infusion of Money for Drivers and More Frequent Service:
In three stories since summer we've discussed how multiple planning processes have recommended an investment (more money) in our transit system to address the awful 80-95 minute frequencies on City buses that makes it all but impossible for Key West workers and residents to rely on using the bus to get around. Census data and the Strategic Plan survey back this up. Key West Transit's adopted 10-Year Transit Development Plan (TDP), the City's SAB (Sustainability Board Want to Make Free, Frequent and Simple Key West Transit a Reality; February 5, 2021) and the City's Key West Forward Strategic Plan (first draft) all called for increasing investment in our public transit system to pay bus drivers more, increase frequency and move towards free fares. But we're told that a decision by the City to raise employee salaries by $2.8 million annually or $5,417 per employee meant there was no money for transit. Without additional money for more drivers to increase frequency Key West Transit is trying an Uber-Like On-Demand system that they say will be better for customers while not costing any more nor needing additional drivers. This new On-Demand service was slated to begin on December 20. We just checked in with Key West Transit and now they say they hope to start the new service at the end of January "with the go-live date predicated on effective agency training and public outreach." We're disappointed about the lack of new investment and the delays.
#3. Duval Street Revitalization Back on Track, October 1, 2021
Duval Street Revitalization Project is Two Years Behind Schedule and Delays Threaten to Make It Worse:
The original Duval Street Revitalization Plan RFQ  was released on November 21, 2019 (RFQ). After a long process, a consultant team comprised of two well regarded firms was selected at the August 19, 2020, City Commission meeting. A contract was signed in November 2020. All was set for public meetings and a project start this past spring. And then the wheels came off. In our October 1 story, Planning Director Katie Halloran explained that the delay may have a silver lining because it allowed the City to get a $500,000 State grant to pay for the project, previously slated to be done with City funds. Further, by doing the project to State standards any resulting construction projects forthcoming from the planning effort might be eligible for some State funds. At the time she expected a release in a couple weeks, a quick selection process with a contractor coming on board in January. Alas, nearly three months later and the RFQ has not been released. It is sad that this signature issue of Mayor Johnston's has been so snakebit by delays because it is a project, we all look forward to – revitalizing our Main Street.
#2. First and Bertha Streets Corridor Road Improvements Are Another Missed Opportunity to Make Bicycling Safer and Easier; June 4, 2021 
While City's Bike/Ped Plan Calls for First/Bertha Streets Corridor to Get Protected Bike Lanes, We'll Get Parking for Cars Instead:
This story generated a lot of he said/she said from Monroe County and City of Key West officials as they each pointed the finger at the other for not following the City's Bike/Ped Plan that very clearly calls for putting in protected bicycle lanes on this important crosstown corridor from Palm Avenue and Garrison Bight to Smathers Beach and the Airport. As we've mentioned in multiple stories over the last couple of years, the perfect time to put in new bicycle and pedestrian safety infrastructure is when a road is rebuilt or repaved. Work started this spring on rebuilding the entire corridor to help mitigate flooding. As these are County streets, they are doing the work. When the work is finished it will look nearly the same as it does today. As we said at the time there are four good things about the rehabilitation project and 176 bad things of which we went into detail on ten.

When we asked the County why they weren't following the Bike/Ped Plan, removing most of the parking and installing protected bike lanes they said they asked the City Engineering Department and were told to keep the parking. When we asked the City about this they gave multiple explanations including something along the lines that parking is the default position and if bike advocates really wanted protected bike lanes they should have shown up at the County public hearing – that no one we talked to had heard about – and said so. No explanation about why no one was following the Bike/Ped Plan. The kicker is that pictures of the streets in the planning documents show few of the parking spaces being used. When we asked City Commissioners about it, they demurred that it was a Monroe County project and therefore they couldn't do anything. This was a gargantuan failure on both the County and the City's part.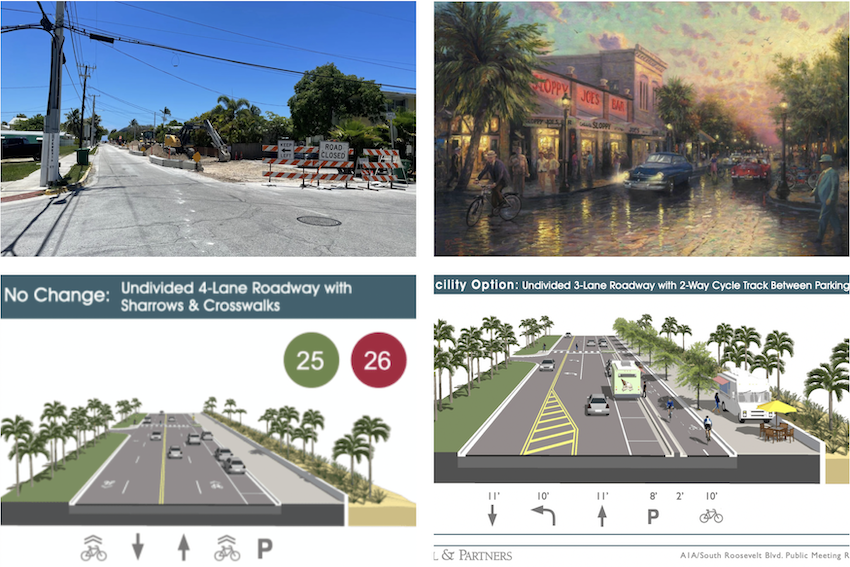 #1. City Fails, Again, to Make South Roosevelt Boulevard and Promenade Safer for Bikes, Pedestrians and Vehicles; November 12, 2021 and It's Time to Reconsider a Road Diet on S. Roosevelt and Make the Promenade and Road Safer; March 26, 2021
City Gets a Big Fat FAIL on Making S. Roosevelt and the Promenade Safer for All:
These two stories were some of the most talked about of the year. The first story in March gave us hope, as the ensuing discussion it prompted gave rise to City Commissioner Mary Lou Hoover offering a resolution in May to rescind an awful 2017 decision by the then City Commission. That 2017 decision overruled FDOT, the City Engineering Director and a majority of residents who participated in a public process to reject a safer S. Roosevelt Blvd that would have included a middle turn lane and protected bike lanes in a bid to get the faster moving vehicles off of the sidewalk. We've recently learned that the resolution was too timid and too late to change the course already set, and we'll get a less safe 4-lane road as a result when construction is supposed to be complete in 2023 or 2024. 
The results could have been avoided had the Commissioners been willing to spend additional planning money and even let an already behind schedule timeline possibly slip. But they told the Engineering Department back in May to only do this if it didn't affect the budget and schedule. Lo and behold Engineering comes back five months later and said they couldn't do anything without affecting the budget and timeline. No surprise. Now we'll be stuck with this less safe configuration for a generation. And a problem will remain on the Promenade with e-bike and e-scooter conflicts with pedestrians and beach goers.
Half Empty or Half Full?
We're depressed just reading these 10 stories. It seems like a lot of setbacks and losses. They certainly make a strong case that 2021 was a glass half empty year when it comes to bike, walk, transit and streets for people issues. But before we make our minds up, lets see what 2021 had in store for us on the glass half full side of the ledger. Join us next week for that countdown.
# # # 
You can find all the KONK Life Streets for People column articles here and recent stories below:
Chris Hamilton is founder of the local advocacy group Friends of Car-Free Key West & Duval Street/Historic Downtown. He's a native of the District of Columbia, where for a couple decades+ he led nationally renowned efforts promoting transit, bike, walk and smart growth for Arlington County, VA's DOT. Chris has lived in Key West since 2015. He lives downtown and works and volunteers for a couple non-pro
[livemarket market_name="KONK Life LiveMarket" limit=3 category="" show_signup=0 show_more=0]