Streets for People / City's On-Demand Transit Service Is Delayed Again. It's 10-Year Plan is Scrapped Too
At a Public Hearing on September 29 Key West Transit announced that its "Way Ahead" was to replace the North and South Lines and evening Duval Loop with a new "On-Demand Transit" service they likened to Uber that was to begin operation on December 20. No more fixed routes. Customers instead would book a trip and be picked up and dropped off at bus stops of their choosing. They foreshadowed this was coming during budget sessions over the summer. In early December KW Transit said this would be pushed back to the end of January. January came and went, so we reached out and were told the project is delayed again. This time because they want to wait for grant funds before proceeding saying "if the application is successful" they could receive $250,00 but added "the grant funding selection date has not been announced." So, who knows when this might happen?
The bad news didn't end there as transit officials indicated they were scrapping the 10-Year Transit Development Plan (TDP) adopted by the City Commission at the end of 2019 as "several conditions have changed within the city" and that the TDP's "expansion strategy is now outmoded fiscally and by workforce availability." Translation, we have no money and no workers. But just a week earlier they announced to much fanfare on Facebook that the agency received a $1 million dollar, no strings attached, American Rescue Plan grant. Huh?
Plan A was to invest more money in the system per the 10-Year TDP's promise of more frequency between buses, simpler loop, and connector routes, and eventually a fare free service. Plan B was a temporary, budget neutral On-Demand service. Now that Plan A is scrapped and Plan B is on hold, we're left with service that everyone agrees, and stats confirm, doesn't meet the needs of residents. We're more confused than ever about the future of the island's little transit system. Let's try to sort this out and see where we go from here.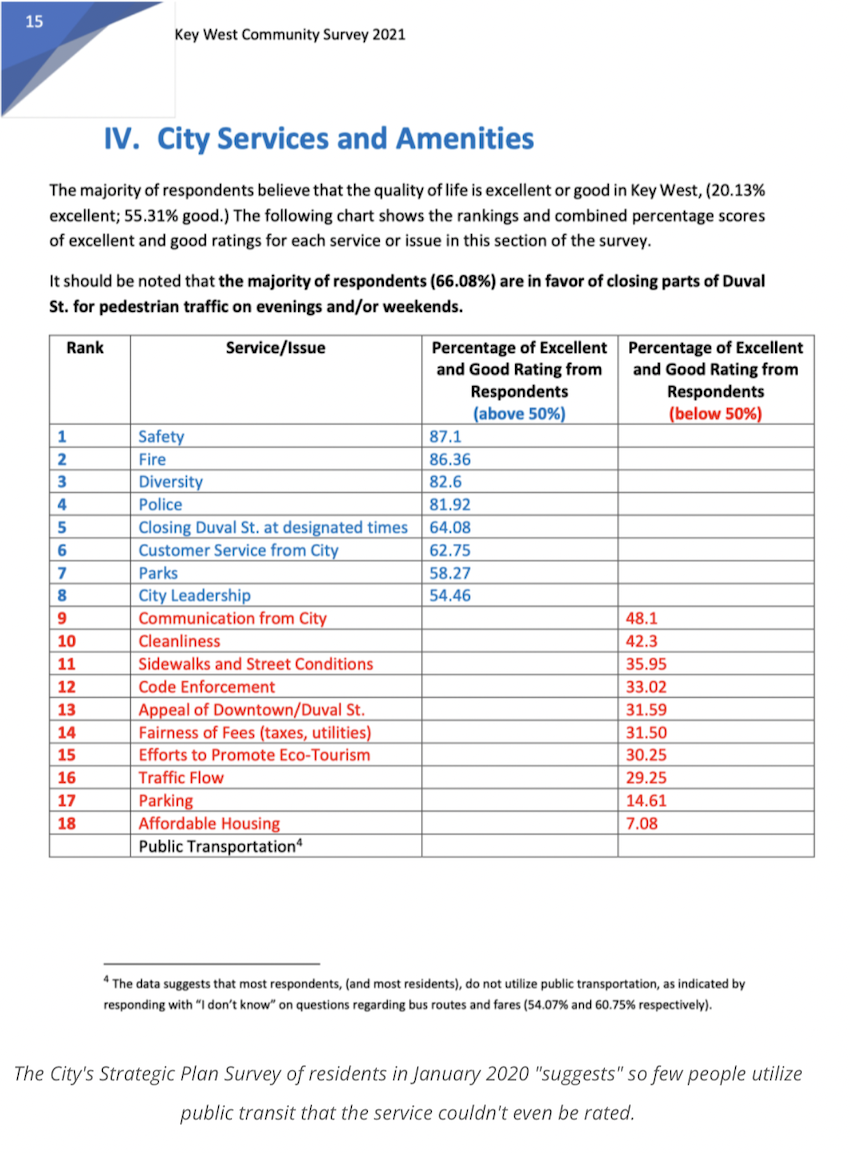 No One Takes the Bus
80, 80, 95, 80, 90, 80, 80, 80, 95, 80 Hut, hut. No, these numbers aren't a quarterback's cadence. They are the frequency in minutes between the ten daily weekday trips on Key West Transit's North and South Lines on the islands of Key West and Stock Island. Yes, customers must wait 80 to 95 minutes between buses. And that's the crux of the problem. With service so awful, no one uses it unless they absolutely must. So few people use the local bus lines that in a Strategic Plan survey of residents of 19 different City services in January 2020, no one knew enough to answer the questions about Key West Transit and so the system was left with no rating.
Census data shows less than one percent (1%) or almost no one takes the bus to commute to work. That's almost unheard of in cities that have a bus system. Officials admit that ridership is declining, even on the at one-time successful Duval Loop. Duval Loop service use to run every 15-20 minutes. Now buses come by each stop every 25-40 minutes as the definition of the word frequent in its "Free and Frequent" slogan seems to have changed over time.
Free, Frequent and Simple – The Promise of the 10-Year TDP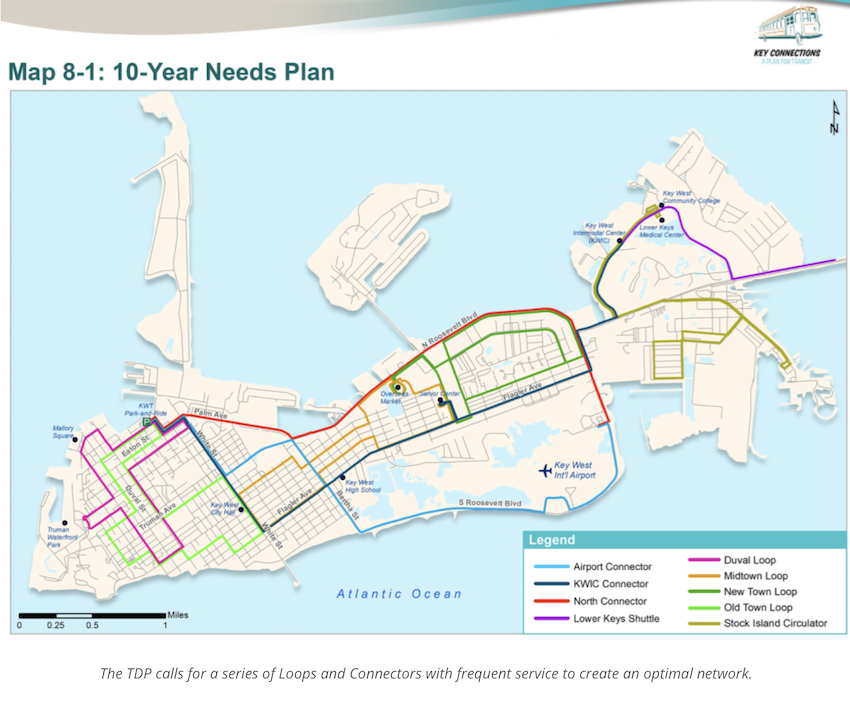 Through many meetings and multiple processes, a consensus was built that improved public transit was vital for our future prosperity. Key West Transit's adopted 10-Year Transit Development Plan (TDP), the City's Sustainability Advisory Board (SAB) and the first draft of the City's Key West Forward Strategic Plan all called for increasing investment in our public transit system to pay bus drivers more, increase the abysmal frequency on all routes and move towards free fares. The Mayor and most Commissioners echoed the call during the budget hearings.
During last year's Strategic Plan process, presentations to the public and Commission in June stated that North and South Lines should go from the current 80 – 95 minutes to 30 minutes and on the Lower Keys Shuttle from 95 – 120 minutes to every 60 minutes. After all this planning and consensus building everyone seemed a little surprised that the Finance Department presented a no-growth Transit budget for the coming year at the July 22nd City Commission Budget Workshop that didn't include these changes. Later we were told that a decision by the City to raise employee salaries by $2.8 million annually or $5,417 per employee meant there was no money for transit.
On-Demand Transit to the Rescue
Mr. Delestrinos, Transportation Director reasoned if we can't reach our target goal of greater frequency via more drivers than he recommended we change the way we deliver service. Without additional money for more drivers to increase frequency Key West Transit announced during the budget process that they were going to try an Uber-Like On-Demand system that they say will be better for customers while not costing any more money nor needing additional drivers. This new On-Demand service was first slated to begin as a pilot project on December 20.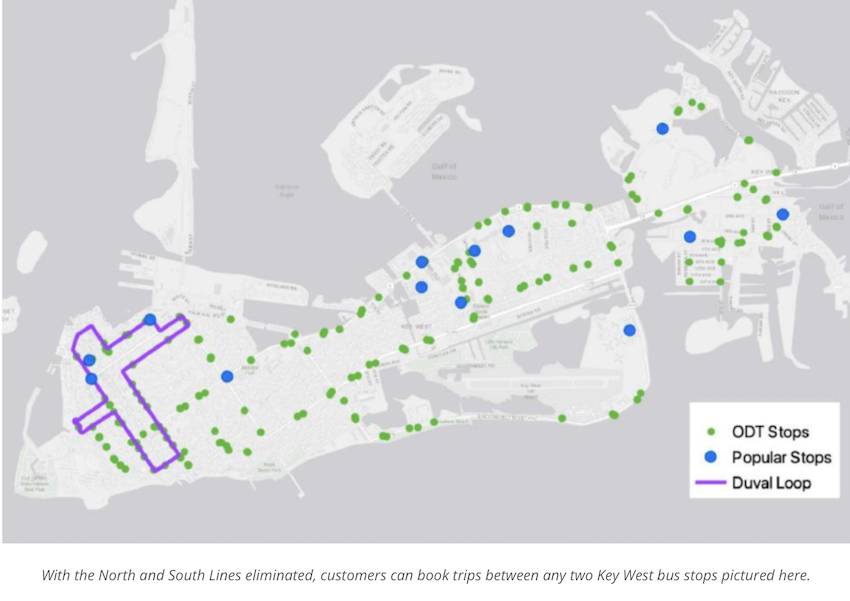 The idea in short is to eliminate the North and South Lines and evening Duval Loop service and replace it with an On-Demand Service. So instead of buses traveling along a fixed route, one would use a smartphone app to request a trip like hailing an Uber. Rather than door to door, the buses would pick up and drop off customers at bus stops. (For details on how it is proposed to work read: Uber-Like Transit Coming to Key West? July 30, 2021).
At the time and given the choice between continuing with the same old service or trying something new, we applauded the department for thinking outside of the box and coming up with the pilot idea.
In December we checked in with Key West Transit and they said they hoped to start the new service at the end of January "with the go-live date predicated on effective agency training and public outreach." As we indicated at the top, when we checked in last week, a start date now seems on hold.
On-Demand More Complicated and Expensive Than Initially Thought?
When we asked Transportation Director Rod Delostrinos on February 7 about the plans for the On-Demand Service, here's how he responded:
"In January of 2022, the City of Key West submitted an application in response to a Federal Transit Administration (FTA) Notice of Funding Opportunity (NOFO), Enhancing Mobility Innovation, at the cost share of 80% Federal and 20% City. If the application is successful, the On-Demand Transit project funding potential is $312,500 ($250,000 Federal and $62,500 City) rather than the $45,000 allocated in the FY22 Budget. The potential funding could advance the On-Demand Transit project faster and avoid a multi-year project. The purchase of stationary kiosks throughout the operational area assists those passengers with technology limitations. Without the innovation grant funding, the kiosk purchase would occur over three years. Additionally, the funding would allow for a call center that would manage trip requests throughout the transit operating day. Current staffing levels only allow for call-in trip requests during office business hours of Monday through Friday 8 a.m. to 5 p.m. The grant funding selection date has not been announced."
During their public hearing in September, a December 20 date for start of service seemed plausible enough to announce, so we figure that once they got into the nuts and bolts of doing this, it became more complicated and costly than realized. To date we haven't seen a BID put out for an On-Demand system. Perhaps this is being developed in-house or is low-cost enough that it doesn't need to go through a BID process, or they are waiting for grant funding before putting out a BID. However, it is done, securing a system and an app seems like a priority. Other, mostly rural, transit systems use on-demand services, so we know these are out there.
It also seems like the need for a smart phone as the optimum way to use the service met with the reality that some customers don't have them. Thus, the need for kiosks throughout the island and a call center. Both would cost money and need time to ramp up. Based on the Department's record keeping up with bus stops, we're not too sure about them handling kiosks too.
We get this. But why the wait for $250,000 in grant money when they just received $1 million over two years from the Feds. Couldn't some of this grant be used to advance the project forward since it is newfound money?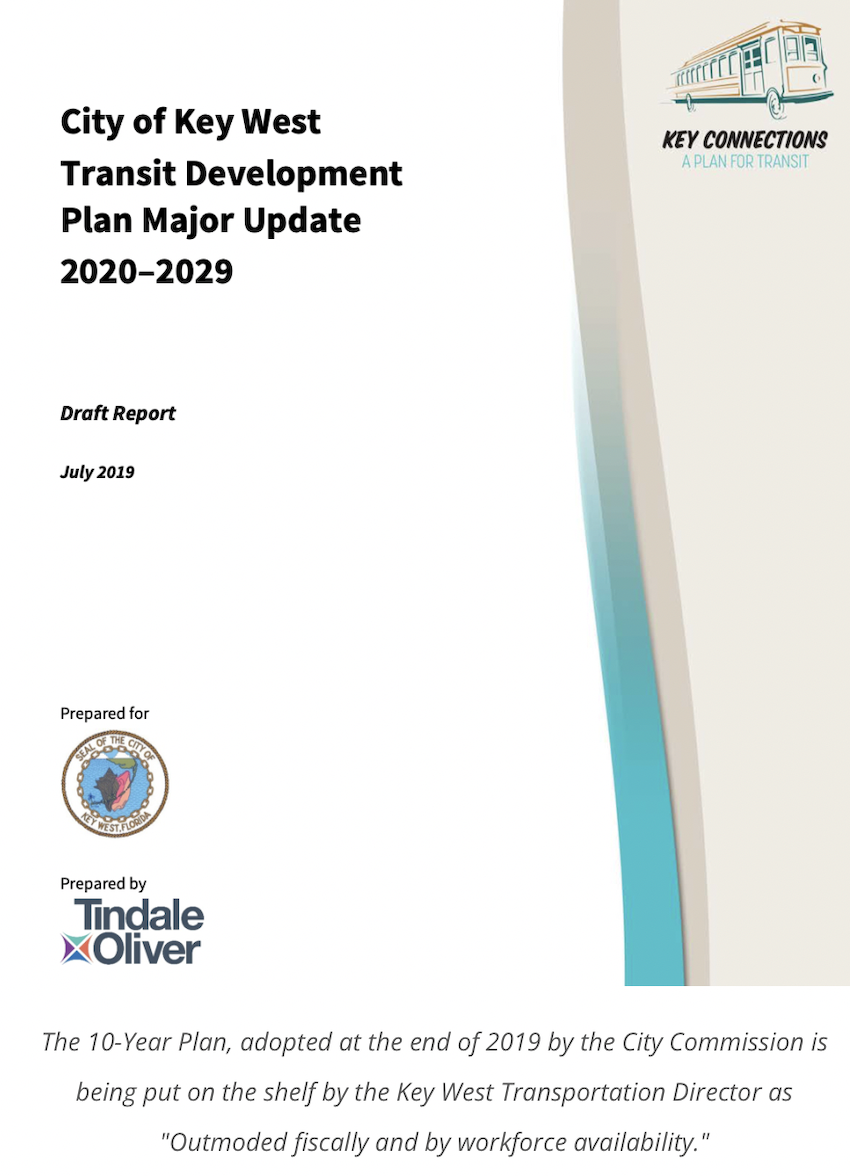 "TDP Expansion Strategy Outmoded Fiscally and by Workforce Availability"
The saddest news to come out of our inquiry into all this, isn't necessarily the delays in the start of the On-Demand service. Especially as this service is thought of as a bridge to a more robust transit system as envisioned in the TDP. No, the surprising and sad news is that the 10-Year Plan that was worked on by a highly paid consultant, with members of the business and residential community over a one-year period, is now considered to be outdated and put on a shelf little more than two years after being adopted. (City Adopts Ambitious 10-Year Key West Transit Plan, December 30, 2019)
Here's our question to the Transit Director about this and his answer in full:
Question: "The Mayor said: "One of our Collective disappointments for 2021 was our inability to create a free and frequent public transportation system.  And there is no one who was more disappointed than our transportation director Rod Delostrinos. If we seriously want to reduce congestion, improve parking, and attract a labor force from outside Key West, we must get this done." – Mayor Johnston during her January 4, 2022, State of the City Report.

We'd like to follow up with our readers and share what this means for the future of Key West Transit. Is the On-Demand service a bridge to get to more frequent and free public transit in the near future? Will it look like anything in the TDP? Will the new and additional Federal funds be part of this?"
Here is the response:
"The City of Key West is committed to provide a safe and efficient public transit system.  Key West Forward, the Strategic Plan for the City of Key West 2021-2024, lists Traffic and Pedestrian Friendliness as Priority 6.  Within that priority, Goal 2 is to improve public transit. 
The last Transit Development Plan (TDP) was adopted in October 2019. The plan's premise is to serve as a strategic guide for public transportation. Since the adoption of the plan, several conditions have changed within the city. Among these conditions include increased driver shortages. Diminished fare box recovery from severe reductions in ridership hampers the City of Key West's ability to generate cost share (50% operational costs) from revenue. The 2019 TDP 10-year outlook essentially doubles the pre-covid pandemic routes and budget. That expansion strategy is now outmoded fiscally and by workforce availability.   
On-Demand Transit allows for the City of Key West to use its transit resources more efficiently. Transit vehicles within the city area will eventually only operate with trip requests thus eliminating empty or near empty vehicles from continuous circling of set routes. Fuel savings, better personnel utilization, and reduction in carbon emissions are just a few of the anticipated positive impacts. Developing new efficient fixed-route, circulator, and/or express service from the On-Demand Transit usage analysis is another potential benefit."    
Regarding "Diminished fare box recovery from severe reductions in ridership hampers the City of Key West's ability to generate cost share (50% operational costs) from revenue" we'd note that Bus Fares are $250,000 ($50K City lines, $200K Lower Keys Shuttle) of a $4,876,569 budget or 5% of the budget (page 203) overall. We hear ridership on the Lower Keys Shuttle is doing well. And it is understandable that the North and South Lines aren't bringing in their anticipated $50,000 when the service is so bad. But again, it's just 5% of the total and the City Lines only bring in 1%. One percent is barely enough of a worry to scrap an entire plan, right?
Regarding driver shortages we get it. The whole island is going through a staffing crisis. But this has been the department's lament going on five plus years with no resolution. That and the City just committed $2.8 million or $5,417 per employee annually to help with that problem. Time to stop crying wolf and raise the wage like HTA does.
The Chicken or the Egg – What's It Going to Take to Fix Key West Transit?
The Transportation Director laments severe reductions in ridership hampering the City's ability to put out service. At the same time, the service has gotten so awful that few people want to ride it. Chicken or egg? Much of our State and Federal funding is based upon ridership numbers. So, if we let the decline continue our funding decreases. Invest in the service and get more passengers and our funding increases. Chicken or egg?
We need to go back to Plan A and implement the adopted 10-Year TDP with an investment (more money) in our little transit system just like the Commission, the Strategic Plan and the Sustainability Advisory Board have all said. If we need to use the On-Demand service as a bridge to get there because it costs not much more in the interim, fine. 
Currently 55% of the Transit Department's budget comes from Federal and State sources, and that doesn't count the recent American Rescue Plan grant. Other than the aforementioned Bus Fares the majority of the balance comes from various parking fees. For example, because the City's Park and Ride Garage at the Seaport on Grinnell was built with Federal Transit dollars, profits must be returned to the Transit system. Monies were carved out in 2017 where 1/3 of the then increase in parking meter fees were set aside for the Transportation Alternative Fund used to help operate the Duval Loop. There's little if any local tax dollars going into the system. Changing that could be an option.
Or if there's no stomach for using tax dollars, we need to get creative again and find sources to cover an investment in the system. The Sustainability Advisory Board proposed another such increase in parking fees be set aside to provide more frequent service. But increases in those fees this year went to the General Fund instead – when experts tell us that parking fees should be used for alternative transportation improvements. What other innovations can we come up with? Can the TDC contribute instead of spending all that money on marketing? Can we dedicate some hotel tax revenue? Sales tax? 
In the end, if more people walk, bike, and take the bus it makes our streets more efficient. It is friendly to our environment and helps combat climate change. It is more equitable for all our citizens – allowing our beleaguered workforce to get to and from jobs without the expense of a car. It makes us healthier. And happier too. Very importantly it helps our local Mom and Pop shops prosper. As the Mayor said on January 4, "We must get this done." We agree.
# # #
You can find the 50+ KONK Life Streets for People column articles here and here and the 16 most recent stories below:
Chris Hamilton is founder of the local advocacy group Friends of Car-Free Key West & Duval Street/Historic Downtown. He's a native of the District of Columbia, where for a couple decades+ he led nationally renowned efforts promoting transit, bike, walk and smart growth for Arlington County, VA's DOT. Chris has lived in Key West since 2015. He lives downtown and works and volunteers for a couple non-profits. Follow him on Twitter here and his blog here.
[livemarket market_name="KONK Life LiveMarket" limit=3 category="" show_signup=0 show_more=0]