Streets for People / City to Begin Work On Making It Easy to Bike to Lower Keys Shuttle and Enhancing Bus Stops from Marathon to Key West
Imagine you live on Big Pine, Summerland, Cudjoe, Sugarloaf or any of the Lower Keys between Marathon and Key West. You'd like to grab the Lower Keys Shuttle into town for work or an event. But you live a mile from the bus stop on U.S. 1. You aren't up for the walk to the stop and research says most people will only walk a quarter mile or two to three blocks to reach transit. Perhaps you could ride your bike but there's no place to park it when you get there. There's no map and schedule information at the stop, no way to hail the bus when it comes by and no other amenities at the stop that indicate customers are valued. So, like most people, you just drive. Well, at its Tuesday meeting, City Commissioners adopted a series of construction and engineering contracts and an additional new funding grant with FDOT to help remedy this problem. 
Starting in a few weeks, construction will begin on a $1.4 million "Final Mile" project that will install bicycle racks and lockers, map and schedule information, hail or flagging devices, trash and recycle bins, lights, and even some bicycle fix-it-stations at 74 bus stops, including all of the Lower Keys Shuttle stops, and some of the most used Duval Loop and Key West Transit stops. 28 of the bus stops are in Key West and Stock Island and the other 46 are in the Lower Keys up to the end point of the Lower Keys Shuttle route in Marathon. Once started, the entire project should take six months to complete. Wow! All of this is part of an ambitious effort by the Mayor and other leaders, backed up in the Strategic Plan, to make using public transit easier, relieve congestion on our increasingly clogged Overseas Highway and help our beleaguered workforce deal with the high costs of owning and operating a car to get around. Mayor Teri Johnston said this investment in public transit is "progress!"
City Snags Federal and State Monies to Do Good Things
In a story last year, City to Make It Easier to Bike to Lower Keys Shuttle, August 20, 2021, we discussed how Alison Higgins, the Sustainability Coordinator wrote an application where the City received a $510,000 Federal Highway Administration (FHWA) grant via the Florida Department of Transportation (FDOT) for this Final Mile project. The City started the planning process and KCI Technologies completed the designs which were then put out to bid for a construction contract. The lowest "responsible and responsive" bid received was for $992,268 from Coral Construction Company. That's $400,000 over what was available to construct the project.
Given the City's distance from the mainland, another BID proffer wasn't likely to bring in lower cost vendors. So, Transportation Coordinator, Ryan Stachurski wrote a supplemental grant for the difference of $437,268 to FDOT. Mr. Stachurski was quick to credit Kelly M. Crowe, P.E., Engineering Department, Carolyn Sheldon, Senior Grants Manager, and his predecessor Tim Staub for helping him get the grants, planning and construction contracts done. FDOT came through with the money and the City Commission just accepted FDOT's additional funding Tuesday. At the same meeting they gave a contract for $992,268 to Coral Construction Company to commence work. As part of the agreement with FHWA and FDOT the City needed to hire a firm to do construction engineering and inspection (CEI) and that $198,142 contact was awarded to RS&H, Inc. on Tuesday also. The funds for this part of the work were allocated from the City's Transportation Alternative Fund – where monies come from a small portion of parking revenues. Altogether the project totals $1,410,951. Of that, two thirds of the money is Federal/State and one third City. We commend City staff for leveraging local money for larger pots of State and Federal dollars and gaining a much more impactful project.
Ryan says of the project:

"This is great news both for people who live and for people who work in Key West. This is a big investment in facilities that help to provide a transportation alternative for commuters who are unable or choose not to pay for the high cost of car ownership."
The First and Final Mile Problem
The grant and project are named, for what in transportation planning circles is called the First and Last or Final Mile problem. It is about the difficulty of getting to the bus stop in the first place, when one lives beyond the usual quarter mile walking shed. Conversely, it is also about traversing the last or final mile when the bus lets you off at your destination. From Marathon to Big Pine and all the islands in-between, including Stock island, many of our homes are well beyond a two or three block walk. Putting bicycle racks and lockers at all the stops, increases the potential radius each stop can serve.
Bike to and From the Bus: Space for 292 Bicycles in Racks and Lockers
As the Lower Keys Shuttle is popular, the two bicycle racks mounted to the front of the buses are often full early on in the run, leaving people who hop on outside of Marathon with no place to put their bike. Fights have been known to break out for the coveted spots. Installing bicycle racks and lockers at the stops will address this and allow more people to access the shuttle bus. 60 stops are getting 121 Inverted U bicycle racks that can accommodate 242 bikes. A dozen more stops are getting 24 bicycle lockers that can accommodate 56 bicycles. That's 292 bike parking spaces in total or 292 potential additional customers per day.
Hail Lights or Flagging Devices at 43 Stops
Many stops along the Lower Keys Shuttle that have enough right-of-way have standard bus shelters. The newer ones, installed in the last couple of years, have solar powered lighting so they can be seen at night by the bus driver and customers. On parts of U.S. Route 1 it can be dark. With this in mind, 43 stops that are in the darkness are slated to receive bright LED "hail lights" or "flagging devices." A customer presses a button on the pole and a solar powered light on the top, shines to alert the bus driver someone is waiting at the stop.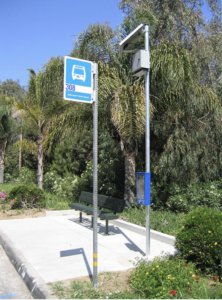 Map and Schedule Information At All Stops
The bus stop is an opportunity for passersby or people that live nearby to see map and schedule information at the stop and then they may be more included to use the service if they need it. We've written in the past (The Sorry State of Key West Bus Stops – We Just Don't Care, April 2, 2021) about how Key West Transit has failed to provide easy to read map and schedule information about where the bus goes and when it is coming next on all its routes. This project will remedy this oversight.
Trash and Recycle Bins At All Remaining Stops
Many of the bus stops along the Lower Keys Shuttle route already have trash and recycle bins. Those that don't will be slated to get them.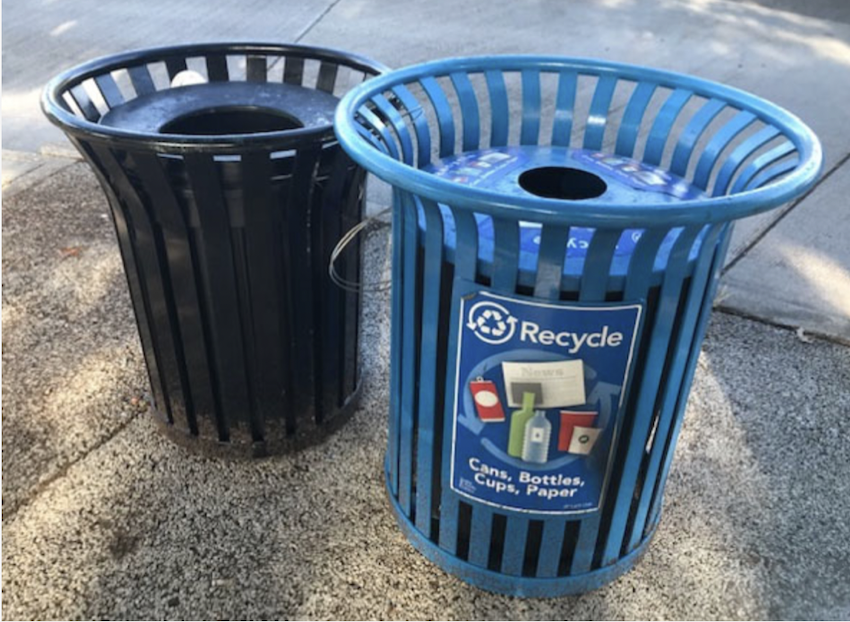 Bicycle Fix-It Stations Near 17 Stops 
Nothing is more frustrating to a bicyclist than a flat tire, loose gears or a basket that is falling off. Or just a tire that needs a little more air. While Key West and Stock Island have a bunch of wonderful bike shops, that isn't necessarily so for the entire Lower Keys. So having a convenient place to fix one's bicycle helps keep people going. A fix-it station includes all the tools necessary to perform basic bike repairs and maintenance, from adding more air to the tire, changing a flat to adjusting brakes, bells, and accessories. The tools are securely attached to the stand with stainless steel cables and tamper-proof fasteners. Project leaders explain that the 17 fix-it stations will go in public areas near bus stops but not directly on U.S. Route 1 for safety reasons.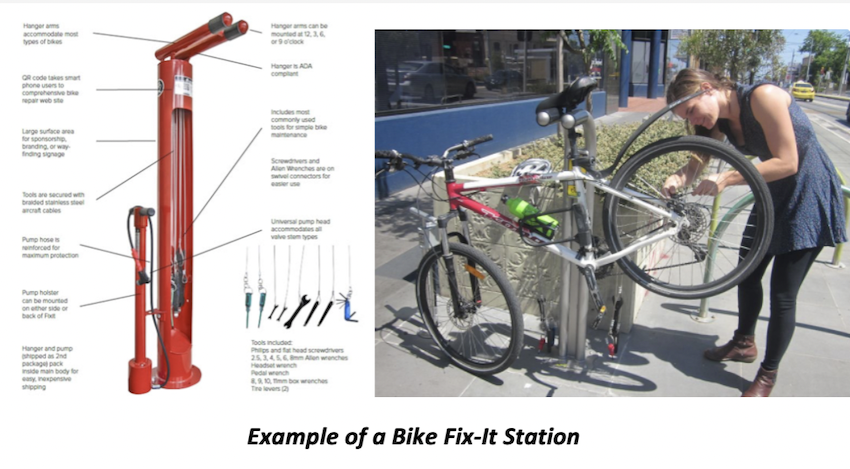 City and County Must Double Down on this Good Project and Invest in Increasing Frequency on the Lower Keys Shuttle
More of us living in the Lower Keys and ever more visitors mean our mostly two-lane Overseas Highway is increasingly clogged. Getting more people to use the Lower Keys Shuttle helps all of us. The Final Mile project is a good investment in getting more people to use public transit. The bicycle racks broaden the reach of the service. The simple amenities of lights, a place to sit, trash and recycle bins and map and schedule information, go a long way towards telling existing and potential customers that they are valued, and increased ridership can be a result. City staff should be commended for foresight and follow through in making this happen. And especially in leveraging City dollars to get Federal and State monies.
But City and County leaders need to double down on this worthy project with an even bigger investment in increasing the frequency of the Lower Keys Shuttle buses. Currently there are only 10 trips inbound and 10 trips outbound daily, averaging between one and a half and two full hours between each trip. Next year that frequency should be hourly and a year after that every 30 minutes. That kind of reliable frequency coupled with the new bus stop amenities could actually move the needle on more people using the system. That will help fight congestion and more importantly save working people money. If people can depend upon the service maybe some households can get rid of one car and really save some cash. This will help make our islands healthier and happier.
# # # 
Chris Hamilton is founder of the local advocacy group Friends of Car-Free Key West & Duval Street/Historic Downtown. A native of the District of Columbia, where for a couple decades+ he led nationally renowned efforts promoting transit, bike, walk and smart growth for Arlington County, VA's DOT. Chris has lived in Key West since 2015. He lives car-free downtown and works and volunteers for a few non-profits. Follow him on Twitter here and his blog here.
You can find two years' worth of KONK Life Streets for People column articles here and here and the most recent 2022 stories below:
What's next/timeline for Duval and Diesel projects? 

The Duval Steering Committee ranked the responding firms on October 4, 2022, and the next step will be for the City Commission to review the finalists and approve the City's partner firm before the end of the year.  Once the finalist has been chosen the City works to negotiate the contract with the firm and the project begins.  With respect to the Diesel Plant, Gary Volonec, Interim Director of Engineering, is working with Planning and the City Manager's Office to seek solutions.  The City will endeavor to demolish building 3B and 5 (not original to the plant and approved for demolition by HARC) and begin some preliminary stabilization as soon as possible in advance of, and to help facilitate, construction of the Lofts at Bahama Village (the 3.2 acre site).

  

The 3.2 acre site is immediately adjacent to the Diesel Plant property.  Staff have proposed that Fort Street will one day connect all the way through to Angela as a pedestrian/bicycle corridor to provide additional access between Bahama Village and the park.  This demolition project will begin the process of transforming this underutilized public property into a gateway for pedestrians and bicyclists to access Truman Waterfront Park from Bahama Village.

What's next/timeline for The Lofts? 

Please contact Bart Smith or AH Monroe for details.  The project has been to the Development Review Committee and the Tree Commission and will be on the Planning Board agenda next on its way through the City of Key West review and approval process.

What would you like people to know about these projects and what it means or why it is important for our downtown? 
Anything you'd like to add? 

The Sunset Celebration at Mallory Square Master Plan is in full swing and Sasaki is the City's consultant leading the project, including the public engagement work.  The first online survey has just closed but the website will be live throughout the project for the public to check on progress and provide feedback 

https://mallorysquare.engage.sasaki.com/

.  

Now, Phase 1 public input will guide the consultants as they develop two design concepts for the public to review; on December 9 Sasaki and City staff will be at the Christmas Bazaar at the Customs House and at Sunset Celebration on December 10, to gather input on conceptual master plan features.  The second survey (not yet released) will provide a virtual opportunity for the public to provide feedback on the two conceptual master plan concepts.
[livemarket market_name="KONK Life LiveMarket" limit=3 category="" show_signup=0 show_more=0]