My Blue Heaven – An Artist's Perspective of Key West
Tara O'Grady
If someone were to ask me, where do you want to go when you die, heaven would not be the immediate answer. The answer is, and will always be, Key West. But I'd like to return to the island before roosters and iguanas dance upon my tombstone, because the Conch Republic is basically like Tír na nÓg, the Irish mythical land of eternal youth.
I spent a month at the end of the road in Florida as an artist-in-residence through The Studios of Key West in April/May. I had been approached in New York City a year before at my jazz brunch by a woman whose card read 'Captain Janet.' The sun-kissed sailor informed me I was exactly what Key West was looking for, a singer-songwriter who writes about people and places she encounters all over the globe. I didn't know much about Key West beyond key lime pie, but I knew I couldn't turn down the opportunity to apply. A month in paradise for free, bike included. All I had to do was write songs inspired by my surroundings.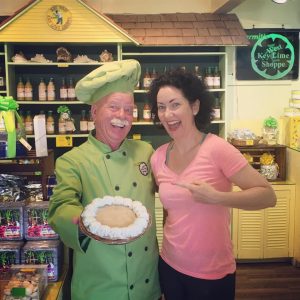 There is a magical current in Key West, a life force of raw energy that fills the mind, body and spirit, which is extraordinarily inspiring for creative folks. Instead of NYC garbage trucks and police sirens, I woke daily to the sounds of mocking birds. Their songs inspired me to compose entire melodies with lyrics at four, five and six in the morning. I don't rise before noon in the Big Apple.
Every day that I climbed on my bike, I let the jasmine wind take me where it wanted me to go. I explored the island like a child, using my senses and curiosity to guide me. My taste buds led me to try donuts with hibiscus syrup, candied bacon and pina colada fillings at the Glazed Donut on Eaton directly after yoga class in the art gallery at The Studios. My sweet tooth also led me to Kermit's Key Lime Pie Shoppe where the man himself gave me a taste of heaven with his blueberry key lime pie.
I wrote songs about the unusual epitaphs on the tombstones in the cemetery, and about the lizards in my kitchen, and kayaking in the mangroves, and sitting outside the Green Parrot with locals while listening to live music as men with Hemingway beards composed original poetry for me on the curbside all the while balancing their beers. I wrote about starry nights and the moon shining bright, while whispering to banyan trees and mediating amongst seashells. I was even able to write a song about the gumbo limbo tree. Imagine that. The entire island put me in a delicious, intoxicating, melodious trance. Song lyrics just poured out of me because I learned how to ride the current of this energy and go with the flow which is the opposite of how I create in New York where I resist the daily chaos.

I plan to return to this heavenly oasis to perform my new music for you, my blue heaven.