Rescue Tails / Taco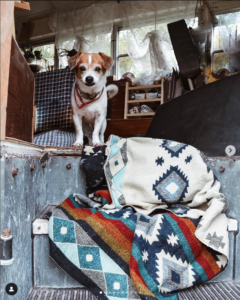 Chihuahuas can have a reputation for being the little guy with the bad attitude. The AKC defines the Chihuahua as "charming/graceful/sassy." This toy breed is also known for their fierce loyalty to their humans. A shelter situation can be difficult and scary for any animal, especially the small statured, loyal, Chihuahua. Being in a strange environment, full of strange people, and big loud barking dogs contributes to the anxiety these small companions feel when at an animal shelter. Often our shelter Chihuahua and Chihuahua mixes need extra time, attention, love and security to feel safe once again.
Taco came to our Marathon Campus as a frightened stray. He had the most adorable under bite, floppy ears, and big round eyes. He was visibly confused but appeared to be sweet and shy. Despite years of experience, the first thing your gut will want to do with a small dog is swoop them into your arms in hopes being held will make them feel better. However; not all dogs want to be picked up and put in a vulnerable situation by a stranger. Taco was frightened by the thought of being picked up and whipped around with a snap and a snarl. A clear communication of "don't do that!"
So we learned, and listened. We gave Taco time to just be. He learned the routine of the shelter, which staff and volunteers would be coming in and out of his kennel. Who gave him walks, fed him meals and gave him treats. Eventually, as his trust grew, his adorable personality began to shine, and the little guy that didn't like to be picked up, would actively climb into your lap, lay on his back and snuggle in for a nap. That's the moment we knew it was time for Taco to find his new family.
Gayle, a young single woman, came to our Marathon Campus searching for a small companion to share her converted bus that would cohabitate with her two beloved rabbits. Working from the bus as an artist, she wanted the companionship of a dog to keep her company on long days working from home. She instantly fell in love with Taco and listened as we explained that although he was ready to be adopted, his new person needed to still take the time to build trust with him, like we had done, before she would truly experience all the love little Taco had to offer. She understood, and committed herself to being a patient and gentle friend to him, until the day he too, climbed in her lap, rolled onto his back, closed his eyes and took a nap. Recently she sent us the most heartwarming update with the most precious photos – "Previously Taco now Bunny! He moved into the bus from the SPCA Sep. 3rd and by Sep. 5th I adopted him. He is settling in great and has already learned to sit, shake and stay. He's learning to love his bunny brother and sister and not be scared of them. He loves taking shopping trips to TJ Maxx and sleeping in my lap while I work. I'm so happy to have him here. My heart always feels a little empty without a dog."
[livemarket market_name="KONK Life LiveMarket" limit=3 category="" show_signup=0 show_more=0]